Tencent Holdings is a Chinese technology conglomerate holding company that was founded in November 1998. Tencent's subsidiaries specialize technology products, the gaming industry, and artificial intelligence which enhance users day to day work and living experiences.
Tencent revenue has been posting strong growth over the past 5 years. In 2019, it has a total revenue ¥377.3B ($53.52 B) 
| Year | Tencent Holdings Revenue |
| --- | --- |
| 2015 | ¥102.9B |
| 2016 | ¥151.9B |
| 2017 | ¥237.7B |
| 2018 | ¥312.7B |
| 2019 | ¥377.3B |
Tencent Holdings Revenue by Year
Tencent Revenue and its core channel
Revenue is being broken down into the main 4 segments
Tencent social network

The 2 key Tencent social network is QQ and WeChat.

Gaming
Advertisement 

Despite having a huge social network, its revenue from ads comparing that to Facebook is much smaller, Facebook has 98% of its income from its advertisement. Tencent's business is very diversified.

Fintech and corporate services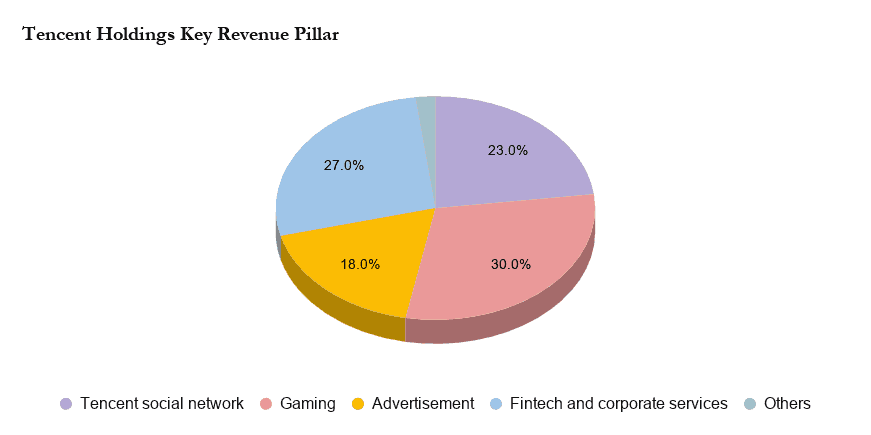 Tencent Social network
QQ as Tencent founding social network
QQ is an instant messaging platform launched by Tencent in February 1999,this messaging tool spans the era of PC and mobile Internet. In the early days, QQ was Tencent's key product. As of 2019. It still has a user base of 612 million users.  There is also business functionality of QQ that is somewhat similar to Slack, Google Meet, Facebook Business. Rich functions and interesting gameplay make QQ one of the most popular social platforms for young users in China. Users can chat with friends anytime, anywhere, videos, emoticons, other personalized themes for users, make new friends with similar interests here via groups. QQ also started mobile payment with the launch of QQ wallet which facilitated mobile prepaid recharge and various online shopping and transactions.  For businesses who need money for cash flow, and also those who need a home loan, you can get it through QQ at rong360 in China.
Tencent WeChat Revenue Importance 
WeChat revenue model is to establish WeChat as the platform to bring merchants and consumers together to facilitate various transactions and extract service fees. This is a win-win situation. Merchants increase channels and sales, and users are more convenient. Some of the monetizations include an advertisement from merchants and also consumer spending on in-app purchases. A huge part of this monetization is through WeChat mini-programs. 
WeChat background
In October 2010, Tencent Guangzhou R & D Center began to develop WeChat  (微信 pronounced as Wei Xin in Chinese). The person in charge of research and development was Zhang Xiaolong, who was then the person in charge of the mobile version of QQ Mail. In 2005, his previous product Foxmail was acquired by Tencent. He led a team of fewer than 10 people and developed the first version of WeChat in less than 70 days. Ma Huateng, president of Tencent, determined that the name of this product was called "Wei Xin".
On January 21, 2011, WeChat was officially released. The first version only allows users to send texts and photos, not SMS. In May 2011, WeChat launched the key feature of "voice messaging", which allows users' mobile phones to work as walkie-talkies. Each voice message cannot exceed 60 seconds. Ma Huateng said: "Voice messages will transform people who are not used to typing on smartphones into WeChat users." The daily user growth then of WeChat has increased from 10,000 to 60,000. Push to send voice messaging ease of use led to an increased download. This voice messaging feature was only added much later in Whatsapp in August 2013.
WeChat popular features
Instant Messaging
WeChat Moments, similar to Facebook feed
Games
Pay utility bills
Transportation via Didi Chuxing, train tickets
Food Delivery through Meituan
WeChat wallet that people purchase their daily needs via the app
News
WeChat Mini Program revenue ecosystem
The WeChat mini program is an application that can be used without downloading or installing. The mini-programs are only within WeChat.  This product launched by WeChat in January 2017 and the mini-program is a light-weight application with rich functions and simple operations embedded in WeChat. It can be used without downloading and installing. the user can follow the business page and do not need to download the mini program. Most of the mini-program are targeted at China consumers right now.
Marketers can take this opportunity to tap on the Chinese market and create their business account in the WeChat ecosystem. Successful WeChat Mini Programme
Tencent, the biggest game company by revenue
Tencent Games is one of Tencent's four revenue pillars, they are the world's biggest game company by revenue.  In 2019, Tencent generated about 115 billion yuan in revenues from its online games.
In 2019, Tencent cemented its leadership posit)on in China and made significant progress in overseas business, which is largely due to PUBG Mobile, Call of Duty Mobile, Peacekeeper Elite, and League of Legends. In the fourth quarter of 2019, overseas gaming revenue has more than doubled year-on-year and accounted for 23% of online game revenue. Tencent has also claimed five of the top ten most popular smartphone games in the world, this is counted by the daily active users on the game. 
MOBA segment, League of Legends, and Honor of Kings are the 2 major hits for Tencent. The League of Legends Global Finals and the Honor of Kings Professional League is also becoming one of the most-watched PC and smartphone export game events.
However, there is still room for further improvement in other game genres such as role-playing games.
What could affect Tencent revenue growth?
Let us take a look at Tencent key competitor by segment
WeChat Pay

AliPay
Bank Digital Currency

Video Social media: Bytedance
Games: Netease
WeChat Pay and its mobile wallet competitors
WeChat Pay's main competitor in the payment transaction segment is AliPay from Alibaba and UnionPay Commercial. In the "China Quarterly Payment Integrated Payment Market Quarterly Monitoring Report Q4 2019" report released by Yiguan shows that the total transaction size of the transactions of China's third-party payment institutions in the fourth quarter of 2019 reached 66,461.33 billion yuan, an increase of 5.74% from the previous quarter. Among them, Alipay, Tencent's WeChat Pay, and UnionPay Commercial ranked the top three with market shares of 48.76%, 33.05%, and 7.53% respectively. The total market share of the three reached 88.33%.
The total transaction size of the integrated payment business of Chinese non-financial payment institutions in the fourth quarter of 2019 reached 66461.33 trillion yuan, an increase of 5.74% month-on-month. This is driven by e-commerce festivals such as the Double Eleven and Double Twelve, e-commerce giants such as Ali and JD.com
In China, there is a saying: "WeChat is like their wallet and Alipay is our bank account". Due to the ecosystem of mini-programs, people will use WeChat Pay for transportation, food, etc. However, more people will choose to store money in Alipay due to financial services like investment products, Yu'ebao, Yulibao, funds, gold, stocks, and other financial management tools.
A recent leak revealed a test version of a mobile digital currency app reportedly developed by one of China's largest state-owned banks, the Agricultural Bank of China. The launch date is still unknown and it will take a while for merchants to adopt the new digital currency if launched
Taking Bytedance as a serious video social media competition
In a WeChat Open Class in 2020, WeChat Founder Allen Zhang announced that WeChat will soon launch a feature called "short video content". Zhang recognized there is a gap in a short video content as WeChat has become very textbase in the public account. WeChat wants to empower everyone to create content. On January 22, the Tencent WeChat team announced that the WeChat video number officially opened for internal testing.
Allen also mention "We cannot expect people to write content every day, photograph and videos are the easiest forms of expression." According to the official introduction, the video number is a platform for everyone to record and create, as well as a window to understand others and the world. Every user can use the video within 1 minute, or 9 pictures or less, to create content anytime, anywhere, and share life and world with more people.
WeChat updated a new rule in October 2019, the platform will punish websites or apps that send links to "mislead or entice users to download or redirect to an external app"